/a href="testimonials.html">Testimonials
Testimonials
---
Keila Conte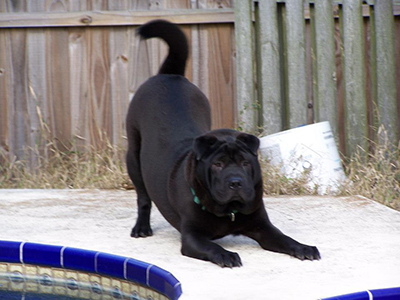 I got a puppy from Tara's Shar pei in 2012. I have not ever owned a shar pei that was not a rescue. So of course, I was concerned about health issues related to the breed. Cindy Churchward helped me every step of the way. From diet to basic health maintenance, she always guided me. The puppies Cindy breeds are remarkable raw fed, second generation and holistically raised. Every pup is very well socialized. Every method Cindy uses to produce healthy pups is with the goal of health, longevity and temperament. My puppy grew up into the most balanced behaviorally well rounded dog! I'm proud to tell anyone that my Creasy Bear is a Tara's Sharpei! Thank you Cindy!
---
Vickie West
I adopted a puppy from this litter (born 10-01-2014) and feel grateful on so many levels.....first of all she's amazingly smart, loving, confident, playful. Her prefered order of things is playing then loving then eating. and I got to see the service dog side of her surface the night before last when I was emotionally overwhelmed with a family member's failing health and fatigue from a nonstop day of work and hospital visits sitting down for the first time to relax with Rose in my lap. She promptly placed herself very close to my face giving me a lick on the lips and I could see she intended on continuing.....so I quickly turned my head to the side so the kisses would be on my cheek and she responded even more quickly to this by placing a paw firmly on either side of my head and gave me a million very quick kisses on every square inch of my face....I laughed as if I had been transported back to being a little girl....giggling joyfully......it was so dear....soooooo dear. Oh almost forgot I was going to give other reasons I am grateful to have a puppy from this litter......that session of kisses all over practically like a thorough face washing from a mama dog has never happened to me in my entire life. It will remain one of my most favorite memories of this lifetime. so other reasons I'm grateful is she is soooooo healthy, her skin, her ears, her shiny loving soulful eyes. She's a deep thinker....and at other times she's a rambunctious adventurer going where no one has gone before....e.g., she found her way up two flights of stairs and then proceeded to whine for me to come and get her and while I waved my hand toward me coaxing her to come down on her own she waved her paw right back at me telling me to get up the stairs and carry her down. I realized when we were doing this the third time that she was indeed training me....as each time I was the one that followed her coaxing and went up and carried her down.....sneaky and smart this girl.. She has range and depth and an old soul approach to her challenges. She's not unformed. She is beautifully DONE AND EVOLVING....I love being by her side and having her at mine.
---
Lori Cardenas
I can attest to the high quality and health of these pups and their parents! I adopted Clara from this litter. She is very well adjusted, her coat is soft, thick, and shiny, and her ears and eyes are unlike any shar pei we've ever had. She has big beautiful chestnut colored eyes and healthy ears. The service nature of this litter comes naturally to all of them, as I was driving home and had a panic attack, Clara stood up, put her paw on my arm, and started to lick me until I calmed down. She is so smart! Oh did I mention, she is house trained, all of them are. All of this could not be achieved without healthy loving parents and a strong and loving pack leader!
Thank you Cindy Churchward for putting the thoughtful time and effort in creating such an exceptional litter I feel confident in knowing I will spend many healthy years with our little girl.
---